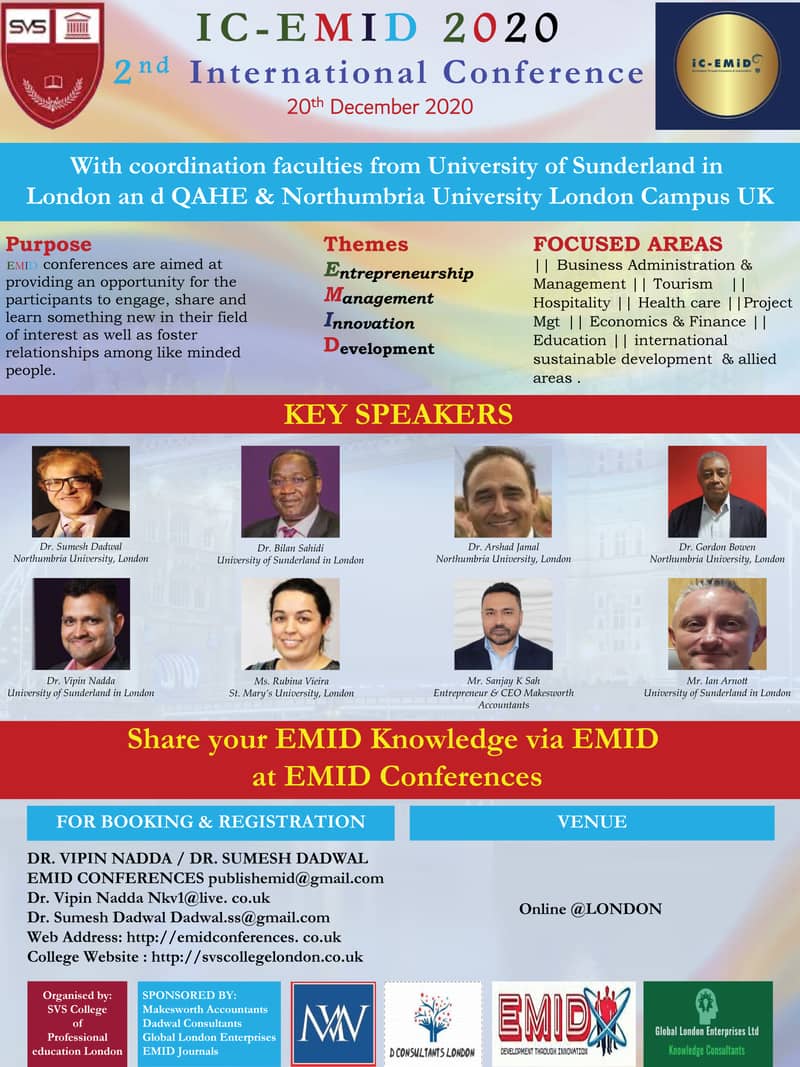 Welcome to EMID Conferences.
The EMID Conferences are organised by a team of researchers and academicians based in London, UK. The Conferences are hosted and sponsored by GRADUATE COLLEGE ENGLAND college of professional Education London LTD and a range of other corporates.
We are a team of London based academicians, researchers, and management consultants endeavoring to bring the latest research at the forefront of society. We strive to engage experienced as well as amateur researchers and organisations to achieve their purpose. We wish to engage global researchers and organsiations with the latest research to support and enhance real business development.
The EMID Conferences are organised at least four times a year and are hosted at several international destinations.
The acronym EMID stands for Entrepreneurship, Innovations, Management & Development. We view these four stages as a process of building societies,  economies, and the world.
As the name EMID implies, the themes of Entrepreneurship, Management, Innovation, and Development are at our hearts. Theses themes can include research from any industry and any sectors of the economy.
EMID conferences are aimed at providing an opportunity for the participants to engage, share and learn something new in their field of interest as well as foster relationships among like-minded people.
The EMID conferences will provide a platform for exchanging and sharing both practical and theoretical knowledge in the field of entrepreneurship, enterprise management, innovation and development of resources and human capacity from a range of industries and sectors.
Previous Year Conference 2019